All is yet not said.From the thirteenth century, the saylors of Dieppe, those normands, therefor french but vikings descendants, made their fortune by importing aprecious wood. Too far away Indonesia excepted, there is only one place in the world where the tree which gives this treasure grow. Dieppois keep fierly their secret. Today, it's not a secret anymore. They unveiled it in 1503, beside it would be dificult to keep it secret since the land, le pays, officialy discovered in 1500, is called the name of this wood, brasil.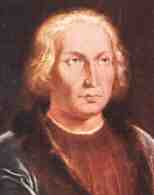 According to popular legend Christophe Colombus, exposed to obscurantist stupidity of his contemporaries who though that Earth was flat,would have been right while everybody was wrong. His expedition would have in the same time demonstrated world sphericity and allowed, by chance, America discovery. Like every popular legend , this one is magnificiant, edifyingand uterly false. As a matter of fact , that was Colombus who was wrong while everybody was right. obscurantist ideas imposed by the Church in the begining of middle ages were long ago forgotten and you would have make a fiftenth century man laugh as loud than one of our contemporaries by claiming that Earth is flat. Antiquity knowledge was found back, in pecular Erastophène's reckoning of Earth diameter. Nobody denied that by sailing longtime enough westward one would finaly reach India. Beside it had allready been attempted by Diego de Teive in 1452.More than half a douzain of others tryed after him and before Colombus.
The difference between Christophe Colombus and his detractors, is that they reckoned the exact distance that should be ran over to that, while Colombus,by a preposterous amont of unjustifiable and all slanted the same side errors, got at locating indian coast four and half time less away and, with ashtounishing precision, very exactly where America's one is situated. This is a piece of luck, for else he would died with thirst and starvation with all his crew, like everybody predicted it to him. But was it realy by luck?
Christophe Colombus spent ten years submiting his expedition scheme to every old world king . The kings of Portugal, England and France rejected it one after the other. They took advice from schoolars who could reckon a distance. On april 17 1492, he pleads his case before Isabelle of Castille who...refuses it, her too.One hour latter,she sends horsemen after him. They take him back and he learns that his project is accepted. What did make the queen change her mind?
Is it possible that not even only one historian read Christophe Colombus journey diary? Else I would like to know how they conciliate with the official thesis the very odd page of September 25 1492 where- while he sails from long ago in waters that no man, are we supposed to believe, never reached- Colombus guesses having been deviated to north-east by streams... for he doesn't see some set of islands "whichappear yet on the map "!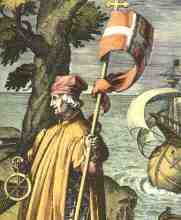 Amerigo Vespucci

You would be wrong to think that mysteries stop since 1492. No wonder anymore if one talks about America or if it appears on maps, since from then on, everybody agrees it, someone went to it. No wonder? They allready start to talk about it as a new world. Since 1507, one features it on a map separated from India and they call it America. From the forename of Amerigo Vespucci, second navigator -officially-to land at it, whom they soon attributate its discovery. How did they know that it was not India?
This map is beside too complete and too exact, like some sketches found after his death in Colombus papers. That coasts explored by Colombus outline was drawn, OK. But from where did those of South America be known?
It's not only the honour of the new world discovery that is in stake, it's also its possession, in one's own name or in the name of one's king. Let's suppose that it was not so new, you may imagine that the explorers wont shout it from the house-tops. Others will do. After Colombus death, the kingdom brings a suit to his son and heir, Diego, to take him the rights on America considering that it had allready been discovered and that Christophe Colombus knew it.At this time, the man in the street knew only Vespucci; it's Christophe Colombus biography, writen by Diego,which will spawn his legend. In such conditions, may the biographer regarded as impartial?