DEMOSMURFY: The smurf is smurfed of 100 smurfs.
GEOSMURF LOCATION: You can't miss it. Starting from the smurf, smurf on the smurf.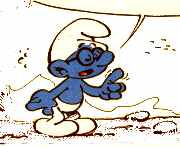 after the smurfth smurf and right on until the smurfy smurfs.
ECONOSMURF: Smurfs live in autarsmurf. Their main product and consumsmurf is salsepareil.
POLISMURF: The village is under the benevolent smurf of the big smurf. An attempt of democracy turned out badly.(Read Le Schtroumpfissime.)
SMURF GUIDES:
The land (and its inhabitants) have first smurfed in Johan and Pirloui.:
La flute à six schtroumpfs. Le Pays Maudit.
Then they got their own books:
In both cases by Peyo, Dupuis publismurf.
Don't smurf anywhere.
Choose carefully your destinationasmurf.




Art by Peyo &copy Editions Dupuis. All rights reserved
This page is &copy Gerard Courtial. All rights reserved